BRUTAL ASSAULT 2020: BANDS UPDATE #3 – NOVEMBER 2019
The line-up for 2020 is growing strong. With this new batch of bands we will already have over 40 artists (33% of the lineup)!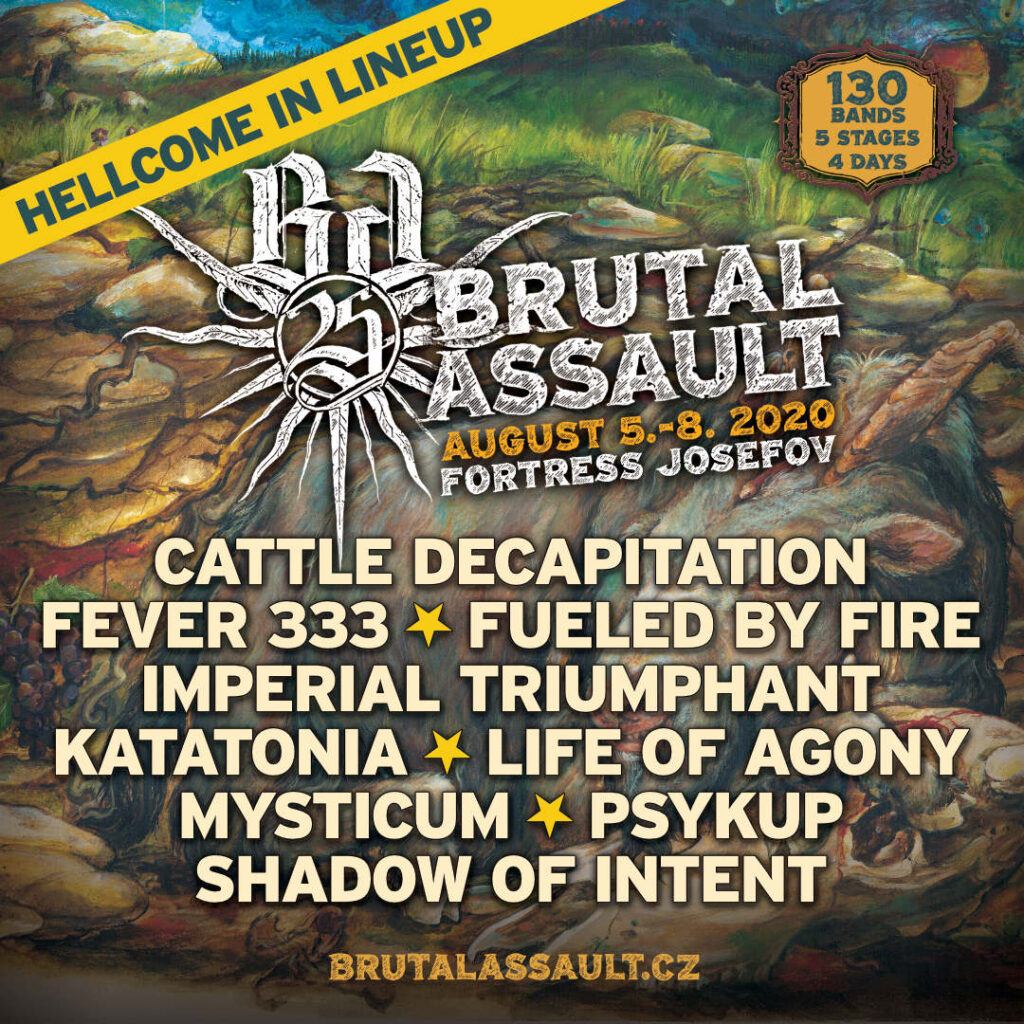 Let's start with fulfilling of the wish of many of you with the finest Caligorenia hurricane CATTLE DECAPITATION, which will bring a unique combination of technical death metal and grindcore with an exceptional voice-slaughter on top of that and with new highly anticipated album "Death Atlas"! The next name will please the fans of pressurized modern metal sounds. SHADOW OF INTENT play melodic and symphonic deathcore and with their third album "Melancholy" their star continues to rise! The fourth album of deadly thrashers FUELED BY FIRE is expected to be out next year, so we can expect not only an energetic show full of massive mosh-fueling riffs but also new songs over the BA stage!
Let's change continents and move to Sweden. One word – KATATONIA! Dark moods, melancholic tones, progressive approach and Jonas Renkse' singing. This string of associations needs to immediately spring into mind of any fan of one of the most atmospheric bands ever, as KATATONIA returns to Brutal Assault! FEVER 333, the next band on the list is known for its unique sound and boasts daring and electrifying rock fever-ish rhythms. They were nominated for a Grammy for their debut EP and they mingle with hip-hop, punk, post-hardcore, metal and electronics or drum'n'bass in their music. LIFE OF AGONY is also a band you won't mistake for any other. Their crossover style has drawn from alternative metal, grunge and hard rock and Mina Caputo lends the band her characteristic voice. Other experimental group that likes to mix-up all kinds of genres (prog, jazz, death, fusion, punk, hardcore…) are PSYKUP! Think of these experimenters as of a French answer to projects of Mike Patton – especially the craziest ones – so fans of Mr. Bungle or Fantomas should become alerted and remember a new shortcut "Ctrl + Alt + Fuck"!
We shall not forget the dark side of power of corpse, so we will finally summon the mechanics of hell and their stroboscopic black metal to create the singularity of evil among the towering walls of our fortress. Get ready for devilish epic projection, streaming sounds of inferno and a show that is gonna shoot you up to "Planet Satan". MYSTICUM are coming! The other side of the darkness will be revealed by a band that is beyond good and evil with its extravagant atmosphere. Mad rhythms, furious tempo, screaks, black metal inside out, violent jazz. The dissonant (death / black) metal triumphs beyond the limits of common understanding. Clear decadence. IMPERIAL TRIUMPHANT!
Bands in this update: Cattle Decapitation, Fever 333, Fueled By Fire, Imperial Triumphant, Katatonia, Life Of Agony, Mysticum, Psykup, Shadow Of Intent
Tickets: https://shop.brutalassault.cz/
FB event: https://www.facebook.com/events/493050868165392
List of confirmed acts so far:
1914, ARCTURUS, ASPHYX, ATARI TEENAGE RIOT, AUTHOR & PUNISHER, BEYOND CREATION, CATTLE DECAPITATION, CRADLE OF FILTH, DARK FUNERAL, DESPISED ICON, DRACONIS INFERNUM, EVOKEN, FEVER 333, FRONTIERER, FUELED BY FIRE, HAVOK, HENTAI CORPORATION, IMPERIAL TRIUMPHANT, KATATONIA, KVELERTAK, LIFE OF AGONY, MANES, MASS INFECTION, ME AND THAT MAN, MYRKUR, MYSTICUM, NECROPHOBIC, NOCTURNUS AD, OTTONE PESANTE, PENSÉES NOCTURNES, PHILIP H. ANSELMO & THE ILLEGALS PERFORMING A VULGAR DISPLAY OF PANTERA, PSYKUP, RAZOR, RING OF SATURN, SHADOW OF INTENT, SIGH, STATIC–X, TOXIC HOLOCAUST, VADER, VENOM, WHILE SHE SLEEPS, WORMROT