Brutal Assault will feature a record number of 151 bands in five days
Already on Tuesday, 9 August 2022, the gates of the fortress in Josefov will open again to thousands of extreme music lovers. The twenty-fifth anniversary edition of the Brutal Assault festival will begin, with 151 bands, including legends such as Mercyful Fate and Cannibal Corpse, performing over five
days. The festival returns to Josefov in full force after three years.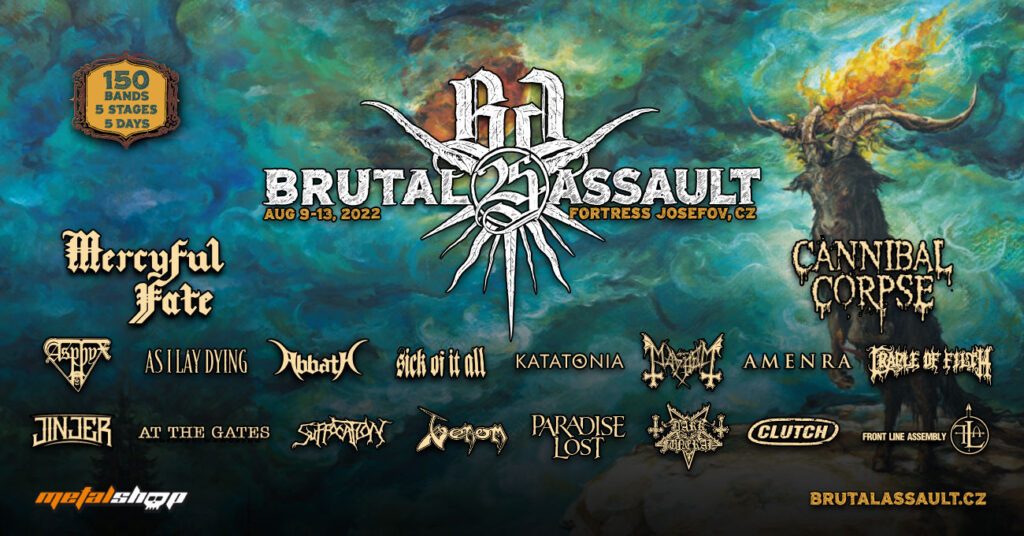 Brutal Assault is expanding this year with another festival day. One of the biggest metal shows in Europe starts for the first time with Tuesday's program, which gets into full swing after 2 pm. The line-up offers a record number of 151 bands, with legends like Mercyful Fate, Cannibal Corpse, Mayhem or Cradle Of Filth alternating with young talents from all corners of the world.
The festival has long prided itself on not having headliners, but building on a balanced lineup. "Still, the most prominent and notable name in this year's lineup is definitely the occult heavy metalists Mercyful Fate, led by iconic frontman King Diamond," Pavel Pavlík notes on behalf of the organizers. "Mercyful Fate are playing again after a 23-year hiatus, so in this case it's an exclusive performance," he adds.
A traditional part of the festival, which takes place on five stages, is also a interesting accompanying program, such as the already established horror cinema, signing sessions, as well as exhibitions. This year there will be three of them. There will also be a post-apocalyptic zone inspired by the Mad Max films and the Fallout computer game, a jazz winery with a live pianist, a chilli eating competition (Plechová huba /
Metal Mouth), the Pit of Doom underground attraction for the brave, and Brut ALE – a specially brewed beer for the festival's 25th anniversary.
"Tickets purchased since September 2019 remain valid for this year's event," Pavlik said.
PROGRAM